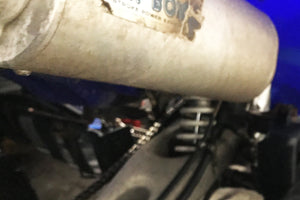 YAMAHA YFZ 450 - DUNCAN RACING FAT BOY 4 EXHAUST SYSTEM
YAMAHA YFZ 450
Duncan Racing Fat Boy 4 Exhaust System

Years: 2003-2008
Condition: Good Condition
Free U.K Mainland Shipping.
International Shipping. +£350 

Performance: 22% HP Gain peak; 21 bike length gain in a 300 yard acceleration run, average. Outstanding throttle response and excellent midrange pull.
Fat Boy 4 4-Stroke Power Exhausts are a proprietary product of Duncan Racing International, Inc. DRI is the sole manufacture and developer of this product. DRI has designed this product to be the top ATV 4-Stroke exhaust on the market.


Fat Boy 4 Features

-CNC Bent 304 stainless steel headers, mid-pipes and tail sections. Standard finish; brite finish.
-CNC machined stainless steel header flanges.
-Custom designed .100" wall aluminum extrusion muffler body. Standard finish satin. Polished by special order.
-Front and Rear End Caps CNC machined from 6061 billet aluminum.
-Muffler mounts CNC machined from single piece of 6061 billet aluminum. Attached to muffler body by heli-arc weld.
-O-Ring Seal at tail pipe to muffler joint.
-All mufflers completely rebuild able and repack able.
-Stainless muffler cores.
-Optional (at additional cost) Bolt On Turndown; redirects exhaust fumes and noise toward the ground. Also required for use with spark arrestor. Attaches with 4 stainless screws (supplied) and has O-Ring seal.
-All systems are individually marked with their own serial number.
-Complete DRI Technical phone support for installation and carburetor jetting questions.